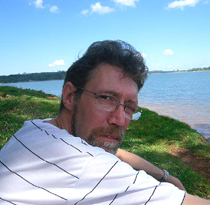 Phillip Robert Simpson
Born in the industrial town of Middlesbrough in the North East of England, a town that from the 1800's to the mid 1980's shared a rich association with both Shipbuilding and Steel Production, forging a strong relationship with the sea and the vessels that sailed the world during the last two centuries.

This rich heritage is in my blood, passed down over generations, forging strong relationships with maritime engineering. I followed in my family's footsteps as a young apprentice Boilersmith, as my Father and his Father before him.

The 1980's witnessed a rapid decline in the shipbuilding industry, it was during this period that I honed my skills as a portrait artist working with pencils, plying my trade in local pubs and rapidly gaining a reputation as a local artist, although this brought little in the way of a living.

1986 saw me enter University where upon I rediscovered my love of Engineering, graduating four years later in 1990 as a Welding Technician, however, local industry was far from recovery, this coupled with the sudden death of my Father and despite my added skills, I continued to struggle to find adequate work. I made the decision in 1992 to care full time for my ailing Mother who sadly passed away in 1998. Those years in between and her eventual death, for me were character building in a very personally profound way.

I went on to develop and expand my talent for things artistic by studying photography with a local community arts group that catered for unemployed people, primarily looking at black and white photography. Through this group I met some very talented artists and the whole experience opened my eyes to new ways of looking at things around me and capturing events, scenes and subjects both on film and with my trusty sketch pad and pencils.

Through determination and a twist of fate, in 1999 I ended up leaving Middlesbrough for the South of England where I found work in Maritime Engineering once again, working on Royal Naval vessels as they came in for refitting and upgrades. I was offered a permanent home by my landlady at the time which brought two benefits for me. Firstly, I was able to secure a career within the Ministry of Defence, enabling me to achieve a long time ambition to teach my skills and knowledge in ship repair, metalwork and metallurgical science to the military. Second was to expand my art further into oil painting and I became a teacher at a private art school for three years.

I started painting from home using my small box room as a studio and selling my art as a second income, of course specialising in my passion for all things maritime. I was fortunate to be taken under the artistic wing of a celebrated oil painter in Portsmouth who became my mentor. I spent 13 happy years in Portsmouth and made many great friends through the Royal Navy but life is forever changing and so I met my wife Elizabeth who promptly exported me to her home in Brazil in 2011, leaving engineering behind to concentrate on my art work, mainly now painting in oils but also discovering and learning about digital photography.

2014 offered me and my family further change, journeying to make a new home in the USA, where I hope to establish myself as a professional artist. In starting this new journey I have to thank all of those people who have influenced and provided me with inspiration in my life, in particular the space-rock band 'Hawkwind' who's music and family of followers have been great motivators for me personally. All have seen me through both good and bad times and now in semi retirement, if ever I hit a creative brick wall or when sometimes things aren't going to plan, I just spend time with my family, play some Hawkwind and off I go again.

Enjoy my website and please visit often because you never know.....there maybe a few surprises as it grows.


Phillip Robert Simpson.